Access eMOLST with one click
Thanks to our work with Dr. Patricia Bomba and Compassion and Support and the End of Life, the Rochester RHIO has integrated eMOLST access right onto the RHIO portal. Distinguishable by its bright pulsar pink tab, this integration simplifies the login process for users who have both RHIO and eMOLST accounts. After an eMOLST account holder logs into the RHIO portal, they are only one click away from accessing eMOLST.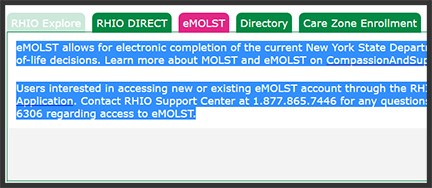 What is eMOLST? eMOLST stands for "Electronic Medical Orders for Life Sustaining Treatment." eMOLST is a secure, web-based application, which allows enrolled users electronic completion of the current NYS DOH-5003 MOLST form. This form documents end-of-life medical orders based on a patient's wishes after a medical consultation. eMOLST allows health care professionals to create, review, and complete the renewal process online, making the process more efficient for providers and care professionals.

To sign up for eMOLST access through the RHIO, download the eMOLST application. Or, for more information, contact our Deployment Team at (877) 865-RHIO (7446). Want to learn more about eMOLST? Go to the Compassion and Support and the End of Life website.